History
Since 1996
The UW Student Technology Fee (STF) was created by the Washington State Legislature [RCW 28B.15.051] and the UW Board of Regents in 1996 to provide for and enhance technology resources for students beyond the classroom environment. The STF is student-levied and student-distributed, generating over $4 million in annual revenue which is paid out to over 100 students and departments each year. The STF is used to fund a variety of technology needs, some being one-off proposals and others being regular and renewable "Block" requests. Recent requests have included a Smart Board for the Department of Economics, automated sanitization stations for the Department of Chemical Engineering, and equipment for a Mars Rover built by Husky Robotics. Other departments, including UW Libraries, STLP, The Daily, and UW-IT receive Block Funding totaling over $1 million annually. The STF Committee is composed of representatives selected by the Associated Students of the University of Washington (ASUW) and the Graduate and Professional Student Senate (GPSS). These representatives, or Committee members, are responsible for reviewing proposals, debating their merits, and rendering a decision. The Committee is also supported by several student and professional staff members who conduct day-to-day operations, fiscal oversight, and auditing services.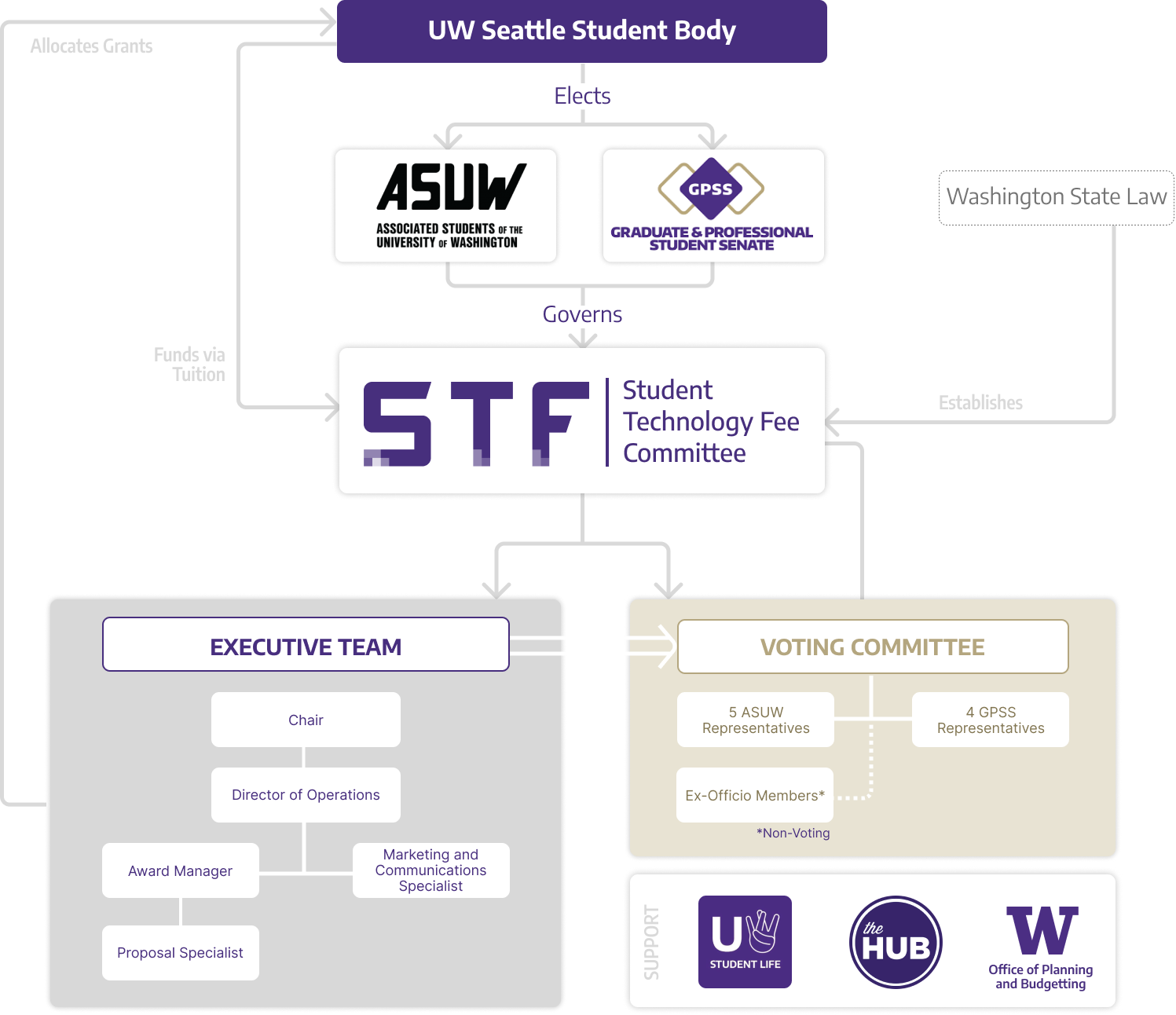 Committee
Representing you
The Student Technology Fee Committee provides general oversight of the STF and is responsible for hearing, debating, and voting on proposals. The Committee is composed of student representatives appointed by UW's two student governments: ASUW and GPSS. The Committee also includes non-voting members from various departments across campus who provide the Committee with context, advice, and support.
Ex-Officio Members
Adam Serafin, STF Advisor / Student Life Representative

---

Trevor Hunt, Director of Operations

---

Ujjwal Chauhan, Proposal Manager

---

Zohar Le, Communications and Outreach Manager

---

Timothy Billing, ASUW President

---

A.J. Balatico, GPSS President

---

Ellen Kesselman, HUB Fiscal Specialist

---

Aimee Hirahara, UW Libraries

---

Jeremy Caci, Undergraduate Academic Advising

---

Tom Lewis, UW-IT

---

Bill Schaefer, UW-IT

---

Virgil Gloria, Graduate School
ASUW Representitives
Lucas Wang, Chair

---

Mitchell Klein, ASUW Finance and Budget Director

---

Mark Pock, ASUW Senate Liaison

---

Boe Zhou, ASUW At-Large Representative

---

Teerth Mehta, ASUW At-Large Representative
GPSS Representatives
Van Mai, GPSS Vice President of Finance and Budget

---

Maleen Kidiwela, GPSS Executive Senator

---

Charles Bugre, GPSS Executive Senator

---

Kaley Wypyszynski, GPSS Senator
Staff
Get to know us
The day-to-day administration of the Student Technology Fee is managed by a team of student staff. In addition to overseeing daily operations, our team provides close support to the Committee and facilitates the proposal process. Our team is always available to answer your questions and guide you through the proposal process.
Keep reading to learn more about our staff and how to get in touch.