Center for International Relations and Cultural Leadership Exchange (CIRCLE)
About the Center for International Relations and Cultural Leadership Exchange (CIRCLE)
International students have often had a hard time finding the resources they need to help them adapt to a new culture, navigate the painstaking Visa process, find housing, seek financial aid, and much more while studying in the US. Some of this pain can stem from the fact that international students typically have a different situation than domestic students and campus resources are not well tailored to their needs as a result. As the population of international students at the University of Washington has shown steady growth in the last decade and continues to rise, it became necessary to have a centralized department that specialized in supporting international students. Recognizing this, the Center for International Relations and Cultural Leadership Exchange (CIRCLE) was established in 2019 with the mission to streamline customized information for international students and serve as the hub for activities and engagement between international and domestic students.
How STF Helped
Being a brand-new department on campus, CIRCLE needs resources and funding to build out their infrastructure. This infrastructure consists of technology and equipment needed to facilitate their hub as it serves as versatile space for students to engage with each other. Moreover, it would provide access to units to host workshops and events with a global focus or to connect with peers at different institutions worldwide. Recognizing this, the STF has funded $24,750 to help CIRCLE build their technology infrastructure ranging from an electronic check-in system and video conferencing equipment for virtual events to comprehensive infrastructure such as laptops, printers, camera, and many other devices.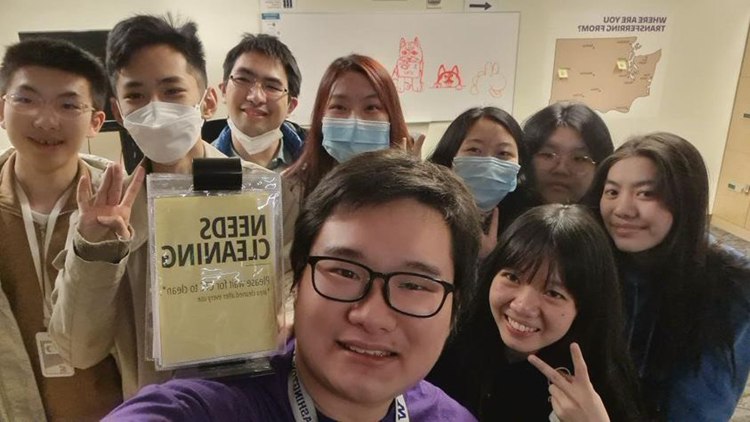 The Impact
There are over 8,000 international students on campus, and CIRCLE is leading hundreds of workshops and activities both virtually and in-person that not only provide informative resources but also create a safe and comfortable environment for students to develop soft and cross-cultural skills. Through CIRCLE, international students can also build and find an open-minded and welcoming community as well as expand their network.
What Students Say
"I had this honor to be part of a UW CIRCLE's program called CIRCLE of Friends (CoF). I got the opportunity to be involved in planning, organizing, and hosting over 25 events with other student leaders, and student volunteers. These devices were helpful in planning and organizing events. "
"With the help of these devices, I created many electronic posters and was able to distribute the posters both online and in person to attract more international students to come to the event. The laptop allowed us to record student attendance, and we analyzed the data and used it to find popular events, student diversity, and attract more students around the world. We were able to use the camera to capture memorable moments during a variety of events and I shared these photos to CoF Instagram page. "
"These devices really made a difference in event planning and allowed me to grow as a student leader. I learned many skills such as making posters, taking photos, managing the events and CoF Instagram page, and analyzing the attendance data and creating events that can diversify the attendance for the program. I also learned how to run hybrid and virtual meetings smoothly. "
"Technology brings accessibility and possibilities to make these things happen."
"Technology brings accessibility and possibilities to make these things happen."
What's Next
Thanks to STF's funding, CIRCLE was able to use technology to leverage different learning experiences for many students. CIRCLE is continuing to serve as a hub for student activities and engagement and hoping to create a global classroom allowing students from every part of the world across different time zones to meet each other. They look forward to working with STF to gather the funds needed to implement this and other projects in the future.